December 20, 2019
Briar and Theodore in their new RCP chair from TLC.
October 10, 2019
RCP Featured at Zero to Three National Conference!
October 17, 2019
Hinsdale, IL Family Medicine Residency Program.

Renee Keefe D.O. and Hope Umoinyang team up during a home visit!

October 10, 2019
Blanket Delivery to Partner – TLC of Claremont, NH
Thanks to student volunteers of University of Saint Joseph in West Hartford, CT for creating these cuddly blankets for newborns and their parents at TLC!
Adventist Hinsdale Family Medicine visit, February, 2019.
August 23, 2018
Congrats to this TLC New Hampshire RCP Mom and Her Baby – #33 in just 2 years!
May 17, 2018
Thanks to the volleyball team at The University of Saint Joseph for making blankets for the Rocking Chair Project home visits.

May 9, 2018
Spring Time
It's Spring time in New Hampshire, and new babies are arriving. Mom and baby are doing great in their rocking chair with special blanket from RCP. Congrats to the whole TLC Family!
September 15, 2017
TLC Family Resource Center Doing "Double Duty" With RCP
First time in 15 years, to our knowledge, these New Hampshire twins and their Mom and Dad, receive an RCP glider chair and blanket. They're 3 months old and doing great! Thanks TLC Family Resource Center!
---
Leslie Sleuwen, Assoc. Director, Womens Health and OB.
Adventist Hinsdale Family Medicine Residency – An RCP Partner For Over A Decade
From the very beginning, Adventist Hinsdale Family Medicine in the western Chicago area, under the expert guiding hands of Dr. Leslie Sleuwen, has been a premier RCP partner. Over the years, residents have been formed by the families and babies they have visited and served. What a year this has been! Our thanks to Leslie and the great doctors at Adventist Hinsdale!
Dr. Kasia Chmiel – RCP Ambassador
Dr. Rick Durante – RCP Ambassador
Dr Gail Ukatu – RCP Ambassador
---
The TLC Family Resource Center/ RCP Partnership Delivers for Celia and Conner!
This is Celia and Conner with TLC Parent Educator, Erin, in New Hampshire.
---
Honors Students from St. Joseph's University, West Hartford, CT
The Honors Program at St. Joseph's University has adopted "Knots for Newborns". Students (L to R) Nan Kyem, Megan Ricci, Chelsy Cardillo and Anna Derewionka take joy in helping moms and babies in need. Next stop – Dr. Leslie Sleuwen's program in Family Medicine in Hinsdale, Illinois. Dr. Sleuwen has been an RCP Coordinator for over a decade. Thanks SJU!
---
From the Coast Guard with Love – Destination New Hampshire
Portia Davidson, Retired Director of Diversity for the Coast Guard in Washington, DC, lends a hand to RCP Founder Trish Magee as part of the RCP Outreach, "Knots for Newborns". TLC/New Beginnings Health Professionals Open the Joy-Filled Package. Next Stop – Moms and Babies in Need in the Claremont, NH Region. Thanks, Coast Guard!
---
Great New Article On Collaboration in New England
Island of Common Stewardship: Claremont, NH
---
NYT: "To Help Kids Thrive, Coach Their Parents" by Paul Tough
---
Eagle Times Features the RCP/TLC Partnership
---
New Hampshire Charitable Foundation Features RCP/TLC/Dartmouth Mom
---
First Chair Delivered in New Hampshire TLC/Dartmouth Partnership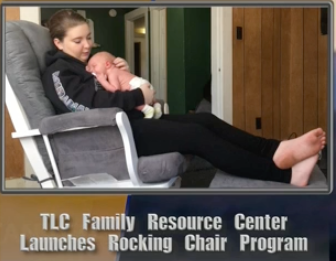 ---
DARTMOUTH, ReThinkHealth, TLC/NEW BEGINNINGS, and RCP COLLABORATION
Population Wide Program to launch on Mother's Day – May 8, 2016.
---
KNOTS FOR NEWBORNS:
"Knots For Newborns" Press Release 2/3/16
---
NEWSLETTER: